Here you will find an incredible collection of Southwest Art. Located in Southeastern New Mexico, in Capitan (home of Smokey Bear by the way), we are in a hot spot for Southwest art and artists featured in our Art Group. If you see anything you'd like to purchase, please email me.

Note: Any purchases will be strictly between yourself and the artist. Simply e-mail me and I'll put you in touch with the artist. In keeping with our current economy, we keep our paintings as reasonably priced as possible.
We welcome you to our Guest Book below the Pegasus painting. You need not use your real name or your personal e-mail address. When you sign, just put in your first name, or nickname, and your comments. Thank you very much from our group!
Pegasus Chimera of the Stars - Anne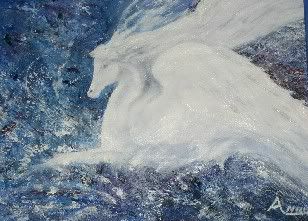 Website created and maintained by Mastiff Sue with Technical Support by Toby